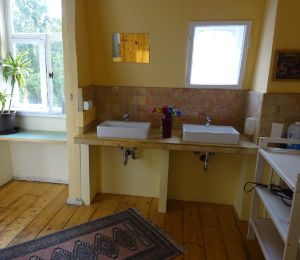 flexible use of the house as a hostel,
group accommodation, youth hostel,
vacation home or as a self-catering house
Family and private rooms
(WCs and showers on the floors)
Single room, shared room or
shared room as double room
used
Central heating and shower
Beds and bunk beds with bedding, a crib is also available
Breakfast on request*
late check-in and check-out is possible by arrangement
no closing times – open 24h
exclusively non-smoking rooms
small kitchenettes with refrigerator, microwave, cooking facilities and dishes
Coffee and tea are available and can be prepared at any time (free of charge)
Discount arrangements for permanent guests
free lockers (usable with own padlock)
Iron, ironing board, and fan
Living room with comfortable armchairs to relax and read
beautiful spacious garden with terrace and barbecue
It is possible to book the house completely for a group or family. WITHOUT other guests and completely private. You can book it with breakfast or as a self-catering house with kitchen use. Please ask directly!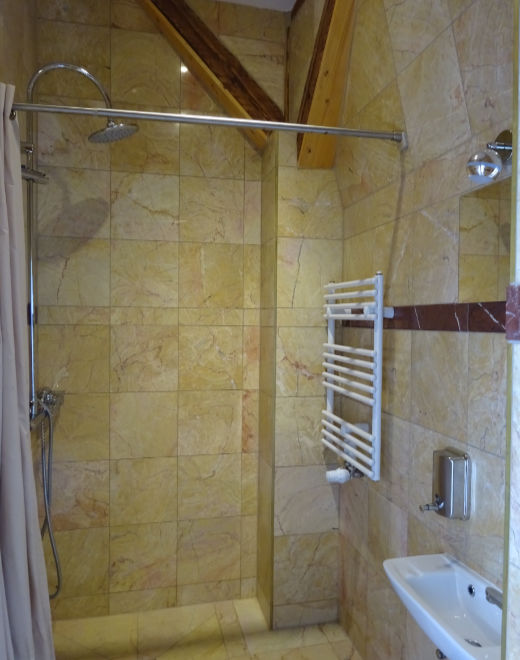 *Breakfast
For groups of 10 people or more, we can prepare a delicious breakfast buffet on request. Let us know your breakfast times and we will arrange it according to you!
Historic Villa
Our house is a historic Gründerzeit villa and is a listed building. Many historical elements are still preserved in the original.
Examples are:
the leaded glass window on the 1st floor
the stairs and parquet floors throughout the house
the doors to the rooms and especially the beautiful entrance door
When we acquired the house, it was in terrible condition. We have gradually renovated it with much love and patience.
There are lovingly furnished rooms available for our guests. The parquet floors are original and have been restored, as well as the stairs in the house. In addition, all bathrooms have been newly renovated and shine, among other things, in beige marble shine.
Our goal is to preserve the historic charm of the house and create a cozy ambience.
We think about our future
At Hummel Hostel we place a lot of emphasis on sustainability.
For this reason, waste separation is very important to us. Appropriate bins are set up and labeled in several languages. We ask our guests for support in this regard.
To avoid waste, we do not use disposable cutlery or disposable tableware.
We also do not use paper towels.
Due to the current situation and for the safety of our guests, only disposable paper towels are used at the moment. Disinfectants are also available.
To save energy, we have equipped the entire house with energy-saving LED lights.
Our garden is planted in a variety of ways, so numerous insects and birds find a home.
Culture Tax (under 18 exempt)
The cultural promotion levy applies only to adults. Please indicate the reason for the trip, if necessary the levy will be waived.
1,10 € per person and night in a shared room
1,50 € per night in a single room
Our prices are flexible and vary depending on availability and according to the wishes of our guests. Prices are suggestions and may be lower.
All prices are per person per night, including bed linen and Wi-Fi. But WITHOUT towels. Please bring your own or rent them for 5.00 Euro per towel.
Breakfast (only for groups of 10 or more) on request for €11.00 per day per person.
Twin room (shared room as twin and used privately, no double bed) Price for 2 persons!
Shared room as single room
Urban villa completely private and safe
Cultural promotion tax
1,10 € per person per night in shared room
1,50 € per night in single room
The cultural promotion tax applies only to adults. Please indicate the reason for the trip, if necessary the levy will be waived.
We will answer you within 24h with a quote for the reservation, it includes availability, possible discounts, our payment terms and the total price.